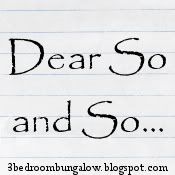 Kat at
3 Bedroom Bungalow to Let in Crazytown
has created this really interesting letter posting thing that I just had to get in on. Why? I have no idea. It is probably because I'm totally fickle and have some minor ADD issues. But, we're not going to talk about that.
Dear Nessa,
I realize that you have a serious OCD ball fetching problem but I am really tired of throwing that damn thing. The marks the ball leaves on the wall when it bounces off are a bitch of get off (
thank God for Mr. Clean Magic Erasers).
And, dumping your ball into the fountain, puddles and your water dish does not make it anymore fun for me to throw. I refuse to take you to a doggie psychologist, even if there is such a thing. If I can't go, you can't go. So take your ball somewhere else.
Thank you,
Your people mommy
Dear Texas Department of Public Safety,
If making us go through tremendous effort to even get to apply for your damn license then making us wait 4 weeks for said license it to show up isn't bad enough. Expecting us to be happy when You screw up JR's license is a little too much to ask. We are finding it hard to get all warm and fuzzy because you are NOT going to charge us for a new license that you are going to make him come in again to apply for. It is bad enough the he has to take off a half of day of work for you to fix Your mistake. Are you going to be happy that we are not going to charge you for that? Yeah, I thought not.
And, oh, his free pass to the front of the line is no real bonus. He has flown out of Houston every Monday and flown back in every Friday for the last 4 weeks. Do you realize how many times he has been searched by TSA because of your screw up?
Searching him should be my job,
One of your New Texas residents
Dear Tripper,
Will you stop your damn barking? Every time I leave the house you don't have to freak out. Sometimes I'm only taking the garbage out. BTW, you bark is ear piercing. My ears bleed every damn time. So please, please, please knock it off!
Love,
Your people mommy
Dear Idiot Cat,
Bringing a live bird into the house will never endear you to me. The feathers I'm still vacuuming up are gross. Your insistence on looking for said injured bird is disgusting. You are daddy's cat. He is presently out of town. Do the math! With every nasty creature you bring in your chances of ever coming into the house again goes down exponentially.
Sincerely,
The woman with the keys to the house.
Dear People at the Meatless Monday Campaign,
Thank you, Thank you, Thank you for adding me to your
Who's going Meatless
page. I never in my wildest dreams thought I would see my blog on the same page with Paul McCartney. If you could move me up to directly beneath him that would so work for me in more ways than one, if you get my meaning. I kid! Please don't send Nancy after me, she scares me.
Oh, thanks also for letting me add to your logo. Because it is just "One damn day!"
Thanks again. Your faithful advocate,
Michele - It's a Dogs Life.
Well, that was cathartic. Do you all feel better? No? I do. I may actually do this again. Probably not cuz you know....that fickle thing.
Love,
M